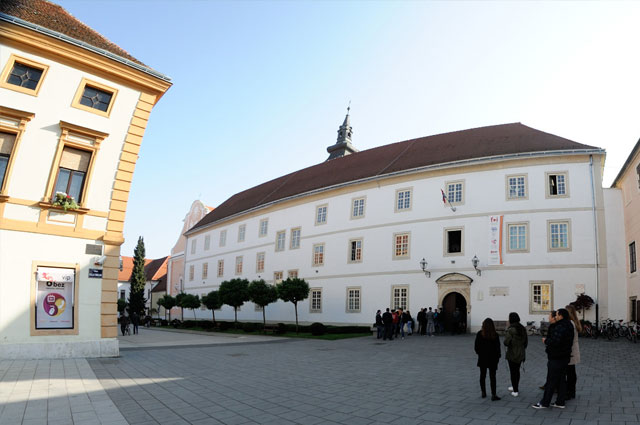 The Faculty of Organization and Informatics is one of the constituent units of the University of Zagreb. It is located in the northern part of Croatia, in the very heart of the beautiful city of Varaždin.
Established in 1962, the Faculty of Organization and Informatics is an institution that reaches back more than half a century, which is a comparably long tradition when modern technologies studies are concerned.
Over the decades, the Faculty has been providing education to future experts in the field of information sciences and technologies, economics, organization, communication and other related fields.
All the necessary infrastructure for educational and research purposes is provided within our two buildings (FOI I and FOI II) including: well-equipped computer rooms, videoconferencing facilities, e-learning system, wireless Internet access throughout the premises as well as a modern library and the reading room.
Both FOI buildings are located in the vicinity of the town centre, the Student Dormitory Varaždin and the newly built Student restaurant.
Faculty Board
Our Vision
To be a national higher education institution internationally recognised for its academic excellence in education, scientific and research work as well as for the knowledge transfer within the fields of organization and informatics and complementary disciplines
Our Mission
To conduct research in information and communication sciences as well as in other complementary scientific disciplines, which can be performed within international and national research and development projects, leading to its implementation in the education process or transfer of knowledge.

To deliver unique accredited study programmes in informatics, organization and economics at undergraduate, graduate and postgraduate levels as well as those pertaining to lifelong learning.

To encourage, organize and execute applied projects and transfer the existing and newly discovered knowledge to economy, public services and to the society in general.
Our Values
Competent staff being the leaders in their research and professional fields in Croatia with national and international recognition.

Past references of FOI that guarantees the highest level of quality in teaching, applied research and the transfer of knowledge.

Comfortable environment (baroque city with long history, tradition and culture) as well as the prestigious study place.

Fast employment after the graduation, as well as the possibility of continuous further education.

Strong infrastructural support in accomplishment of our core business.

Regard for the students and their standard.
Related Documents