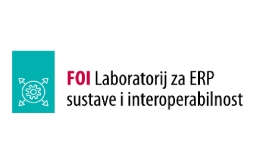 Through collaboration with industry and researchers from the region, ERPlab@FOI should become a recognized point associated with the selection, implementation, support, testing and education of different ERP systems
Laboratory activities can be divided into 3 categories:
Application and support
to combine different ERP systems within the laboratory infrastructure
to test the functionality of different ERP systems
to establish collaboration with ERP manufacturers, partners and their clients
to run the "Student to Business" and the "Student to ERP Specialist" programs
Research and development
to apply and implement scientific and professional projects
networking of scientists from the region
to apply new technologies in the context of ERP systems
to integrate with existing systems
Transfer of knowledge
to cunduct workshops, provide consulting and write project proposals with partners from the industry
Members
Assoc. Prof. Ruben Picek, Ph.D. (Head)
Marko Mijač, M.Inf.
Asst.Prof. Darko Andročec, Ph.D.
Martina Šestak, M.Inf.
Dijana Peras, M.Inf.
Tanja Šestanj-Perić, M.Sc.
Suzana Keglević Kozjak, Ph.D.
Contact us