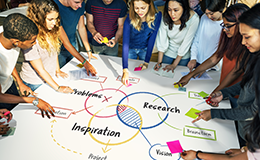 Dear students, it is our great pleasure to welcome you at the Faculty of Organization and Informatics in Varaždin - FOI!
The Faculty of Organization and Informatics (FOI) is an internationally recognized higher education institution in the interdisciplinary field of informatics, organization and business, located in the city of Varaždin, Croatia. FOI is a part of the University of Zagreb (UNIZG), Croatia's flagship university and one of the oldest and largest universities in South Eastern Europe.
By choosing FOI as their exchange destination, international students also become a part of a large community of almost 75,000 students enrolled at the University of Zagreb. On the other hand, owing to the decentralized position of FOI premises with regards to the main campus in the Croatia's capital, FOI exchange students can also enjoy a more relaxed and friendly atmosphere that characterizes Varaždin student experience.
Our students' study in two major study fields: INFORMATICS and ECONOMICS (find out more about FOI UNIZG study programmes in the section "About us").
Study programmes in informatics provide students with the competitive knowledge within the fields of information sciences and technology. Simultaneously, students are introduced to the important organization and business knowledge including the financial management, marketing and business decision-making.
Study programmes in economics are designed to introduce and familiarize students with new economic concepts and entrepreneurship models. Owing to a combination of business, organizational and IT knowledge, students graduating from this programme are prepared for today's labour market, either by finding job opportunities in various industries and positions, or by starting their own business.
At FOI, international students can be enrolled as:
FULL TIME STUDENT

S on all levels (degree-awarded; in Croatian language)

.

EXCHANGE STUDENT

S (non-degree student) within the Erasmus+ programme, a bilateral exchange or as free movers

.
International students can also complete the ERASMUS+ INTERNSHIP in one of FOI laboratories, centres or offices.