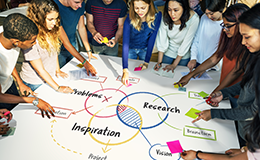 Dear students, it is our great pleasure to welcome you at the Faculty of Organization and Informatics in Varaždin - FOI!
Are you interested in computers and programming? Do you wish to learn how to design applications? Do you wish to become a successful young entrepreneur? Then, Faculty of Organization and Informatics in Varaždin is the best study place for you because it is a leading higher education institution in Croatia to provide education in applied information technology and information sciences.
Our students study in two major study fields: informatics and economics (Please find out more about our study programmes in the section "About us").
Study programmes in Informatics provide our students with the competitive knowledge within the fields of information systems design, strategic planning and the development of programme support aided by innovative technologies. Simultaneously, students are introduced to the important business knowledge including the financial management, marketing and business decision-making.
Study programme in Economics acquaints students with new economy and IT insights, concepts and entrepreneurial models. It provides them with the knowledge to start their own entrepreneurial businesses and to work within medium and big companies.
At FOI, international students can be enrolled as:
full time student on all levels (degree-awarded; in Croatian language). Please follow these links to find more information on how to proceed with the application process: University of Zagreb, International Relations Office and Central Application Office.
exchange student (non-degree student) within the Erasmus+ programme, a free mover or a student involved in a bilateral exchange. Get in touch with the international office at your home university to initiate the application procedure or contact FOI International Relations Office.