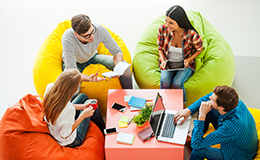 As FOI student, you can choose among the variety of the extracurricular activities.
At FOI integration of knowledge and practical skills is encouraged on all levels. It is performed through participation on case studies and competitions or joining one of the student organizations or Faculty labs.
Become a true FOI student and participate in number of activities and events organized by FOI Student Council. Their elected members represent FOI students at the Faculty Council and the University of Zagreb.
Do you like sports? Join the Sport Association FOI and enjoy the soccer, basketball, chess-playing, martial arts, mountain-climbing...
Do you like singing? Join the FOI Choir.
You want to do good deeds? You have the opportunity through FOI Centre for volunteering and humanitarian work.
You are good in writing and want to share your stories with FOI students? Join FOI student magazine STAK.
Do you believe you have some knowledge about business and finances and want to share it with others? You are welcome in Business Club@FOI.
AIESEC, the biggest student association in the world, has a very active local branch in Varaždin. Among other activities, they annually organize "Global Village"event where international students present their culture, food and customs to the citizens of Varaždin.
If you are interested in specific IT field and want to build up your knowledge to be more competitive in the labour market, or you have good and innovative ideas, you can join one (or more) laboratories that are active at FOI: