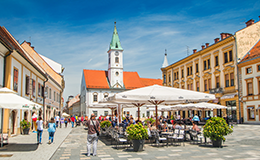 For Varaždin they say, it is a city loved by its inhabitants and adored by visitors.
What makes Varaždin a perfect Erasmus destination
Very safe city to stay
Perfect sized city for living, almost everything is within walking distance (this will save you some money)
Comfortable climate – cold in winter (possibly snowy), warm in spring and hot in summer
Perfect location to explore Croatia and Central Europe
Acceptable prices and costs of living
Zagreb, Croatian capital, is just 80 km away
Situated by the river Drava – great area for relaxing and recreation
The Adriatic coast is just a two-and-a-half-hour drive by car.
How to reach Varaždin
You can easily reach Varaždin by all standard modes of transportation: bus, train, car and airplane. Guests arriving from more distant parts of Europe and the rest of the world usually choose to fly to Zagreb first. To get from the Zagreb airport (Franjo Tuđman Airport) to the city of Varaždin you have few possibilities (public transportation – bus or train, renting a taxi or van).
About Varaždin
The city of Varaždin, known as "Little Vienna" or "the City where Angels Sleep" is a must see destination located in the North of Croatia on the southern bank of the river Drava. With 50,000 inhabitants, comfortable climate and great location, Varaždin is an attractive destination to live in. It is the touristic, cultural, economic, educational, and sporting centre of North Western Croatia. Varaždin is usually portrayed as "the city of baroque, youth, music, flowers and bicycles." Also, the residents' character and way of life – the love for their city and their unique, open, cosmopolitan mentality have been welcoming guests with open arms and hearts for centuries, making them return to this charming destination.
Accomodation and food
The Student residence Varaždin is one of the most modern student accommodation complexes in Croatia and further afield. It consists of two buildings (residence halls) and a student restaurant. It is located next to the city centre, just a ten-minute walk away from FOI, but also fairly close to the river Drava, which is a great venue for recreation and relaxing.
Adjoining the residence halls is the student restaurant which has two parts – "the line" (or "menza" in Croatian) (only for student card holders) and the other part that is open for public. International students studying through Erasmus programme will receive the "x-ica" card upon their arrival, which will allow them to eat in "menza" at highly affordable prices.
If you would like to be accommodated at the Student Residence Varaždin, please contact FOI International Relations Office (inernational@foi.unizg.hr).
The other option during your stay in Varaždin is to rent a private apartment. Rental prices can vary significantly. The most popular online platform for renting accommodation in Croatia is "Njuškalo" (https://www.njuskalo.hr/). You may also consider staying in one of the hostels in Varaždin, like Bed & bike hostel Varaždin (www.bedbike.hr).