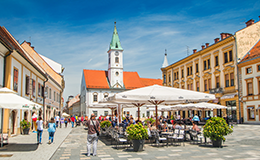 For Varaždin they say, it is a city loved by its inhabitants and adored by visitors.
How to reach us
Varaždin is easy to reach by bus, car or train. International students mostly fly to Zagreb (Franjo Tuđman Airport) and then take a bus to Varaždin. Varaždin has great geographical position so students can, in their free days, explore Croatia and neighbouring middle European countries like Slovenia, Hungary, Austria, Serbia and Bosnia and Herzegovina.
About Varaždin
Varaždin is the city of baroque, young people, music, flowers and bicycles. It has around 50 000 inhabitants and relaxed city atmosphere. At the same time, it is a regional cultural, educational and economic centre, as well as a tourism hub of North-Western Croatia. Varaždin is a proud holder of 11 national Green Flowers awards as the most orderly city of inland Croatia. In 2014, the New York Times listed the city of Varaždin among 53 places in the world that you must visit.
Accommodation and food
International students are mostly accommodated in the newbuilt Student dormitory Varaždin, which is one of the most modern dorms in this part of Europe. It is situated just 5-10 minute walk from the city centre and the main FOI building. The price is 100-150 EUR/month (depending on the room). There are also few apartments available for academic staff.
Rooms can be single, double or triple-bed. Each room is equipped with bed and mattress, sheets and pillowslips, desk, chair and a wardrobe, toilet and bathroom, refrigerator, free internet access and a TV. The Dormitory also contains kitchens, living rooms, outdoor terraces, study rooms, indoor and outdoor gym, sport playgrounds, laundry and drying machine rooms, bicycle storage.
For more information and reservation of the room in the Varaždin student dormitory please contact intrenational@foi.hr
Next to the student dormitory is a student restaurant (so called "menza") with available open part for general public and a café. Incoming Erasmus students get Croatian Student Identity Card (x-ica) which allows them to have special reduced prices for meals (1-2 EUR per 3-course meal).