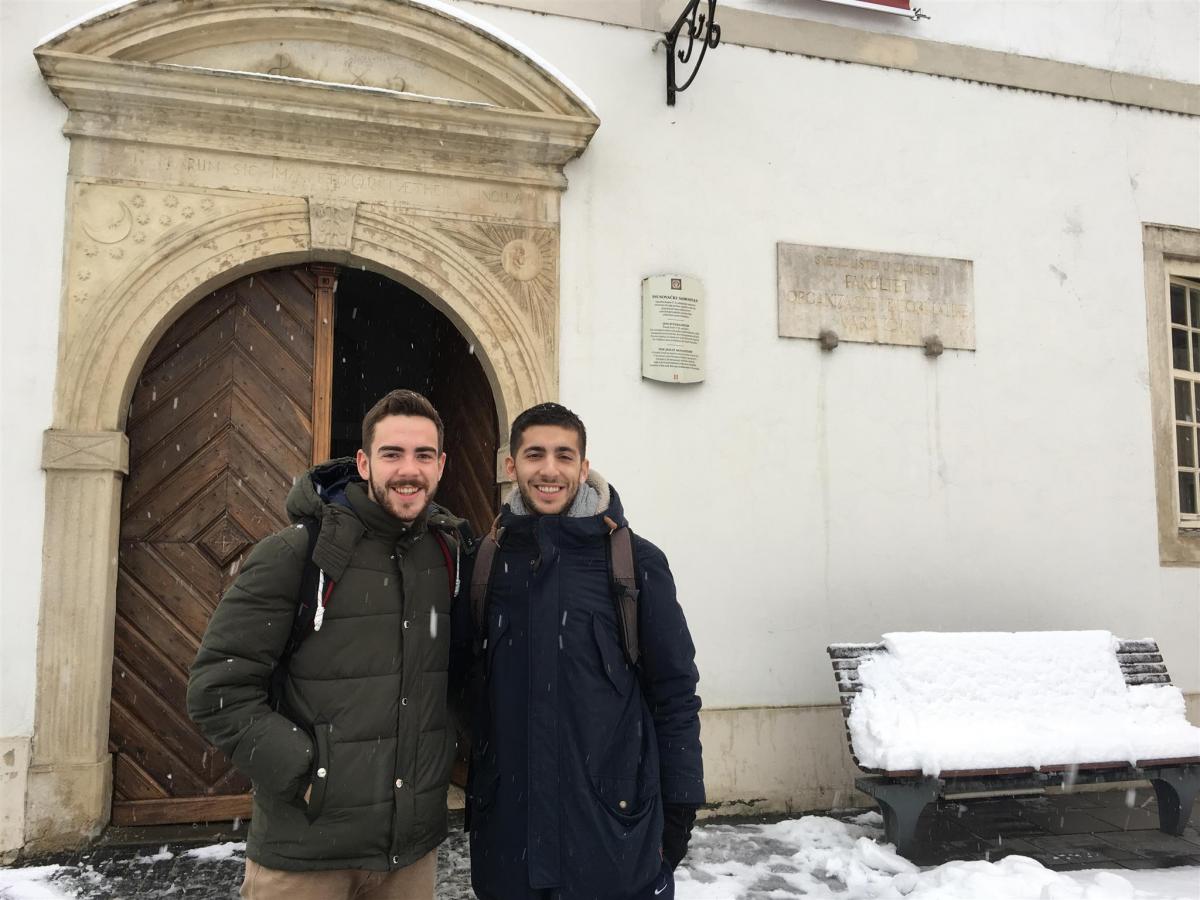 Before the mobility
The desire of participating in an international student exchange program grown up mostly because of experience-based stories told by colleagues and family. They strongly recommended to give a try to the experience of studying in another country.
I am from Viana do Castelo, Portugal, and I am currently studying for a master's degree in Informatics and Computation Engineering at the Faculty of Engineering of the University of Porto (FEUP). Since the moment I started to think about the possibility to participate in the Erasmus program, I have been aware that it would be a completely different challenge. I think all students should leave their parents for a while to grow up and become responsible for their own living. Erasmus program was six months long, can you feel the anxiety and uncertainty of how would it be? I even thought about quitting because of her, but it was her encouraging me to do it. After all, it was a test of our love and it made me a more responsible and better person.
Croatia as a perfect Erasmus destination
And now you wonder why did I choose Croatia? One of the main reasons was to expand my international cultural experience, learn new languages, get to know people and cultures from other countries and make useful contacts in the professional area. Therefore, as Croatia is located in the middle of Europe, sharing borders with Bosnia and Herzegovina, Slovenia, Montenegro, Hungary and Serbia, that could allow me to easily visit those countries without spending too much money. Another reason that influenced my choice was the Croatian coast, which was one of my travelling dream destinations. Summed that up, I believed that Croatia was the perfect destination to do Erasmus exchange. After selecting the country, it was time to look for people who had been doing an exchange program in Croatia, so they give me some tips about cost of living, people, gastronomy etc. I even suggested a friend of mine, Hugo, to join me on that experience. Then, one month after the application process, the results came, and guess what? Me and Hugo managed to get the two vacancies at the Faculty of Organization and Informatics (FOI), which made us very happy and excited. Upon that, we started to do some research about faculty, location, available courses, etc.
ESN Zagreb was organizing Welcome week at the beginning, so I went to Zagreb on 22nd September to join that event. The moment I got out of the airplane at the Zagreb airport I could not believe that I was so far away from Portugal, it took me more than two days to realize that I was facing a whole new challenge.
First week in Croatia
The first difference I have noticed between Croatia and Portugal was, obviously, the language. Croatian is a little bit difficult to learn by ourselves. Also, as Croatia does not belong to the "Euro zone" it was another slight difference to deal with. I have participated in the Erasmus Welcome week where I met a bunch of foreign people and share culture diversities. We had an event called speed-meeting, in which thirty Erasmus students were distributed in a circle to get to know each other. Another memorable event in which students could learn something new about another culture was "The International dinner" where every student cooked a dish from his/her country.
Living in Varaždin
After that amazing week, it was time to take my big and heavy luggage in order to travel to Varaždin. When I got here, I had to check-in at the "Studentski Dom"- a student's residence. Both me and my friend were very well received by whole staff. Another positive point was the fact that there was "Studentski Restoran" nearby the residence, in which we could have lunch or dinner for around 1€/1,5€, with the x-ica card.
Speaking of Varaždin, I really appreciated the infrastructure of the city, mostly the fact of all the streets being plan, like in Amsterdam, which turns the city accessibility way better. It remains human-scaled and friendly to its inhabitants who, at any time and only by travelling a short distance, may easily benefit from calm open areas. However, after spending one week there, I could notice that by the night it was too quiet and calm. Another thing that turned my staying in Varaždin difficult was the fact that employees from the supermarkets, coffee bars, etc. do not speak English that well, as opposite to Zagreb and some other Croatian cities I visited. Actually, most of the Croatian words and some basic sentences I learned from sellers in supermarkets.
Studying at FOI
The first day I went to FOI I had a meeting with both ECTS and Local Erasmus Coordinator, to define our Learning Agreement – courses that we will attend during the semester. Another positive aspect of being a FOI student was having classes only from Monday to Thursday. That allowed me to go to Zagreb and other places during the weekends.
Travelling and visiting other countries
As I previously mentioned, I really wanted to visit the Croatian Coast, Dalmatia region. I wanted to visit Dubrovnik, Split, Zadar and Hvar island, but to do so, I would need at least one full week, which, having classes could have been difficult to accomplish. But, fortunately, all the teachers, to whom I am very grateful, were very comprehensive allowing me to skip the classes during that week. I have rented a car with Hugo and three more Portuguese friends, studying that time in Italy through Erasmus. We all agree it was one of the best trips ever. We did catch great weather with amazing sightseeing views and beaches. I also visited nearby countries, such as Poland, Hungary, Slovenia and Austria.
Social environment
Socializing with my international classmates was quite easy at the start and I soon expanded my social network by joining several student groups via Facebook. I managed to substantially improve my skills in English, which was one of my main goals when applying for this international exchange program.
In conclusion, I can claim that my international student exchange experience was really productive and also educative, I have learned a lot of things, from improving my social values – such as communicating with all kinds of people, more punctuality, valuing even more my family, friends and girlfriend, etc. to my cooking skills. 
Diogo Pereira, student from University of Porto, Portugal
Erasmus exchange at FOI in 2017/18