It is a beautiful historical building of cultural value in the center of Varaždin with a yard (total area of ​​4,327 m2), which is located next to the building FOI 2, and nearby the planned project of University Campus Varaždin - Phase II. Let us remind you that the building was given for use to the FOI by the decision of the City Council of the City of Varaždin for the purpose of implementing educational activities and improving higher education in Varaždin and in the entire region of Northwestern Croatia.
INTENSIVE WORKS IN PROGRESS
After more than a decade of systematic decline of Villa Oršić, the Faculty of Organization and Informatics, with the help of the Croatian Ministry of Science and Education, the City of Varaždin, partner companies and project funds, managed to secure funding for the renovation of one of the most beautiful buildings in Varaždin - historical urban ensemble, which is entered in the register of cultural assets of the Republic of Croatia.
In this area, which will be completely renovated by the end of this year, FOI will make minor interventions in the area in order to completely repurpose it for the needs of teaching, scientific research activities and performing part of administrative activities. The works have been intensified in recent months and the external renovation has been almost completely completed. Works on internal renovation are in progress, which includes mechanical, electrical and hydro installation works.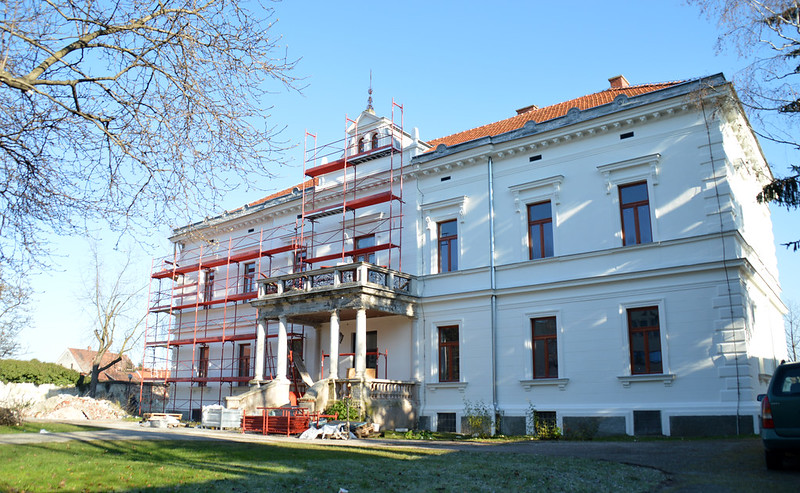 NEW FOI TRAINING CENTER

Villa Oršić will thus represent a common incubation space which will house FOI's research laboratories, learning and teaching halls and cabinets for teachers and faculty centers. By stepping into areas such as Software Systems Development, Artificial Intelligence in Business, Networked Systems and Computer Games, and Business Systems Analysis and Design, FOI is entering new, innovative and interdisciplinary areas, which will require additional space for research and development.

In the premises of Villa Oršić, the FOI Training Center is planned, which is being established in the e-School project with the aim of further and systematic implementation of education and awareness-raising activities on digital maturity, which is becoming increasingly important in the modern education system. The Center will achieve wider social significance and international recognition through scientific research activities that will include in-depth analysis of educational data, as well as conducting scientific research in the field of artificial intelligence, extremely important for further development of teaching processes and related digital maturation processes.

Currently, about 2,800 students study at FOI, and more than 35 large research and development projects and eleven laboratories, eight centers and two student support offices are active. In addition to the above, the FOI must also provide space for the work of the Student Union, the Student Ombudsman, as well as associations such as AIESEC, Student newspaper STAK, Business Club FOI and others. Some of them will soon continue their activities in the soon renovated and modernly equipped Villa Oršić.
FOI would like to thank the students Bojan Horvat and Timon Terzić and the member of the IoT Laboratory of FOI Asst. Prof. Boris Tomaš, Ph.D.