BASIC INFORMATION
Due to the current epidemiological situation in the country and in the world, and following the instructions of all relevant institutions in order to prevent coronavirus infections and protect all members of the community, including all our students and staff, the Faculty of Organization and Informatics has initiated the following measures:
Hybrid teaching model
In the winter semester of the academic year 2020/2021, Faculty of Organization and Informatics will conduct classes according to the hybrid model. Hybrid model means that part of teaching will be performed in contact at the Faculty buildings, and part will be conducted remotely. The presence of students in the contact classes will not be conditioned in any way.
Compensation of classes
Classes which are not going to be held, due to holidays and state non-working days, can be compensated asynchronously or synchronously.
The recommended form is asynchronously. In case of compensation of classes, students will be promptly informed.
Way of conducting exams
Mid-term exams and exams will be held either in contact at the Faculty or remotely, according to the decision made by the holder of the course by prior notice and in previously determined weeks.
Teacher consultations with students
Regular communication and consultations can be maintained through one of communication channels, chosen by the course teachers (e-mail, LMS learning management system, video conferencing system, telephone, etc.).
Consultations with International Relations Office (IRO) and other faculty services
Regular communication with IRO is organized primarily through e-mail, telephone and FOI International Facebook page. Contact consultations with IRO and other faculty offices are possible, but with prior notice through one of the mentioned channels.
All FOI students must adhere to all prevention measures when entering Faculty and each faculty hall, room, office or center.
Faculty employees work in the premises of the Faculty and are available during office hours. They perform their work tasks, respecting all prevention measures.
Other FOI visitors will be allowed to enter in Faculty buildings only with prior notice to the certain services or employees.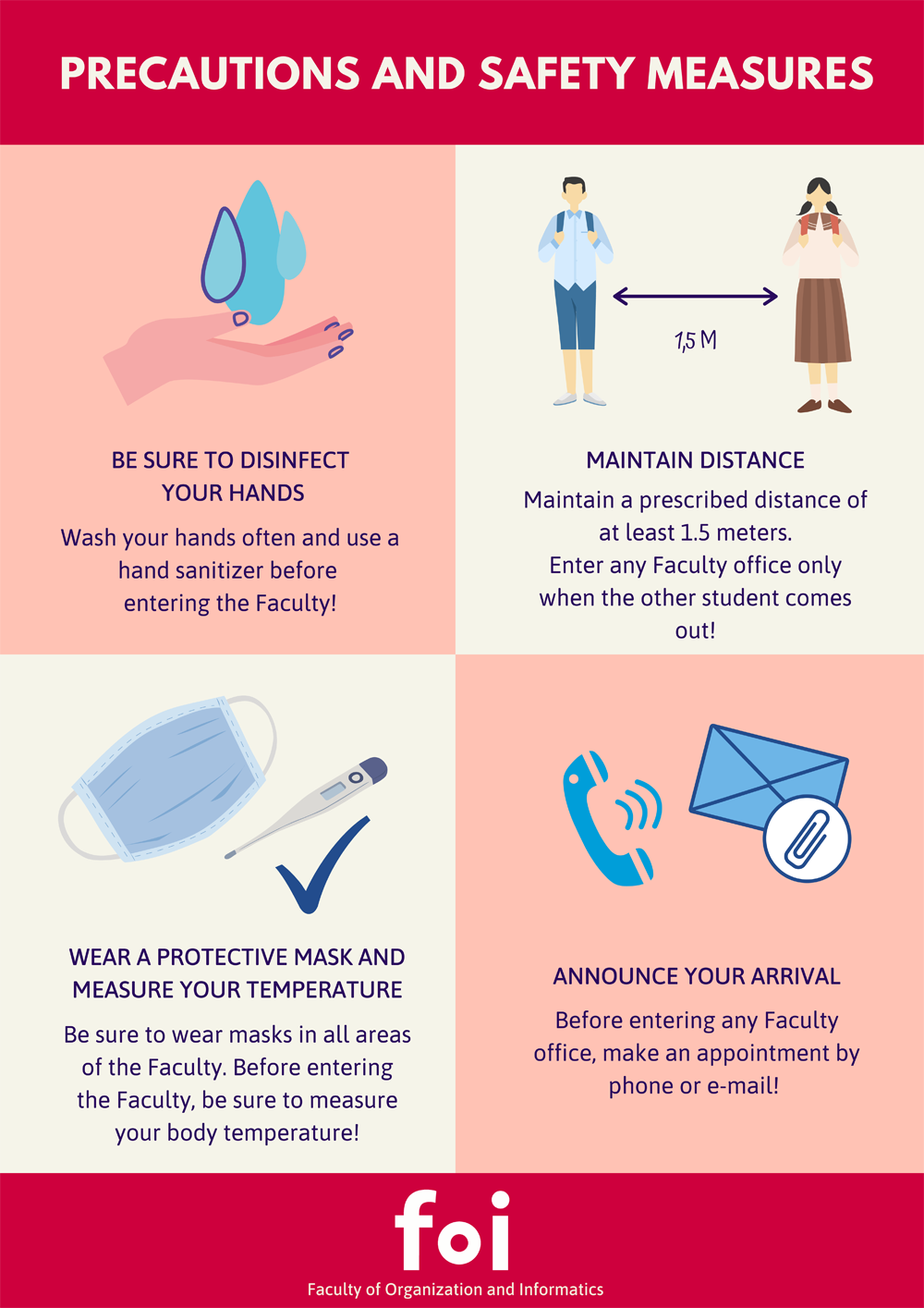 HYGIENE PROTECTION AND MAINTENANCE
Recommendations for preventing the spread of infection:
regular hand washing
covering mouth and nose when coughing and sneezing with the upper arm or tissue
thorough cooking of raw foods (meat and eggs)
avoiding close contact with anyone who shows symptoms of respiratory nature, such as coughing and sneezing
avoiding contact with wild and domestic animals
In addition to regular hand washing, which includes washing with ordinary or antiseptic lotion and water, it is desirable to frequently disinfect hands with broad-spectrum alcohol disinfectant with proven effectiveness against most viruses, confirmed by European standards.
Instructions for washing and disinfecting hands:
Hands should be washed frequently and thoroughly with soap and water for at least 20 seconds
When soap and water are not available, use a disinfectant which contains at least 60% alcohol
The virus enters the body through eyes, nose and mouth, so these parts of the body should not be touched with unwashed hands.
PROTECTION
Virus COVID-19 can cause mild flu-like symptoms such as:
elevated body temperature
dry cough
hortness of breath
muscle pain and fatigue
Risk groups are:
People over the age of 65, ie people with chronic diseases (such as high blood pressure, heart disease, diabetes, liver disorders and respiratory diseases), children and smokers. The doctor refers to the diagnosis and examination if he deems it necessary. He also directs person to further testing.
Protective equipment, masks and gloves, must be worn in open and public spaces. In the premises of Faculty of Organization and Informatics, students are required to wear protective mask and keep distance of 1.5 meters. Before entering Faculty building, they need to measure the temperature and disinfect their hands.
MOTIVATION BOOSTER
Supportive relationships are very important protective mechanisms in dealing with stress and can lead to greater happiness and improvement of self-confidence. Thanks to modern technology, you can organize an online coffee with friends and colleagues and send to each other supportive messages.
Also, working from home gives you opportunity to acquire new knowledge and skills. So, try and learn something new – foreign language for example. And after hard day at work, spend some time in nature. Take pictures, write, draw, put your phone away and spend quality time with yourself and family.
STAY HOME IF YOU FEEL UNWELL - YOU HAVE FEVER, COUGH AND DIFFICULTY BREATHING, SEEK MEDICAL CARE EARLY
Stay home if you feel unwell. If you have a fever, cough and difficulty breathing, first contact Doctor's Office - Ivica Škvorc (+385 42 398 535) and FOI International Relations Office (international@foi.unizg.hr).
CONTACT
FOI INTERNATIONAL OFFICE
PSYCHOLOGICAL SUPPORT FOR STUDENTS
Psychologist Violeta Vidacek Hainš
Skype: violetavh1
113 - CALL CENTER FOR ALL INFORMATION ON CORONAVIRUS
Follow all the information about coronavirus in Croatia at www.koronavirus.hr/en.