BASIC INFORMATION
Due to the current epidemiological situation in the country and in the world, and following the instructions of all relevant institutions in order to prevent coronavirus infections and protect all members of the community, including all our students and staff, the Faculty of Organization and Informatics has initiated the following measures, valid from March 16, 2020:
any contact form of class, as well as all non-teaching activities and all other events at FOI, are delayed
class is being held online exclusively at FOI till the end of semester
teachers are obliged to inform FOI Board members and students about the way of conducting online teaching
all communication with FOI Board and Faculty services takes place through online communication channels (including consultations with teachers)
Faculty staff is working from FOI as usual, starting June 1, 2020
We will notify you of any changes in a timely manner!
ONLINE TEACHING
According to the instructions of the Ministry of Science and Education and the decision of the Rector of the University of Zagreb, teaching at the Faculty of Organization and Informatics will be carried out online exclusively.
Classes are being held through FOI e-learning system. Please take this form of teaching seriously, in order to successfully master the learning outcomes.
TEACHING MONITOR MODEL
Teachers from each course will inform you about the model of online learning. In case you have any concerns or questions regarding on-line learning implementation, contact the course teachers directly. For technical problems, please contact elf@foi.unizg.hr.
HYGIENE PROTECTION AND MAINTENANCE
Croatian Ministry of Science and Education and Ministry of Health gave recommendations on how to protect you and the people around you.
In the continuation of this text we are bringing you some important recommendations regarding health protection and hygiene maintenance. On this link you can find official advice of the World Health Organization (WHO) on reducing the risk of spreading the virus.
Take care of your health and protect others by doing the following (source: WHO official web page):
WASH YOUR HANDS FREQUENTLY
Regularly and thoroughly clean your hands with an alcohol-based hand rub or wash them with soap and water.
Why? Washing your hands with soap and water or using alcohol-based hand rub kills viruses that may be on your hands.
MAINTAIN SOCIAL DISTANCING
Maintain at least two meters distance between yourself and anyone who is coughing or sneezing.
Why? When someone coughs or sneezes, they spray small liquid droplets from their nose or mouth which may contain the virus. If you are too close, you can breathe in the droplets, including the COVID-19 virus if the person coughing has the disease.
AVOID TOUCHING EYES, NOSE AND MOUTH
Why? Hands touch many surfaces and can pick up viruses. Once contaminated, hands can transfer the virus to your eyes, nose or mouth. From there, the virus can enter your body and can make you sick.
PRACTICE RESPIRATORY HYGIENE
Make sure you, and the people around you, follow good respiratory hygiene. This means covering your mouth and nose with your bent elbow or tissue when you cough or sneeze. Then dispose of the used tissue immediately.
Why? Droplets spread the virus. By following good respiratory hygiene you protect the people around you from viruses such as cold, flu and COVID-19.
STAY HOME IF YOU FEEL UNWELL - YOU HAVE FEVER, COUGH AND DIFFICULTY BREATHING, SEEK MEDICAL CARE EARLY
Stay home if you feel unwell. If you have a fever, cough and difficulty breathing, first contact Doctor's Office - Ivica Škvorc (+385 42 398 535) and after he confirms a suspicion of COVID-19, call Varaždin epidemiological service (the number is +385 99 211 9802). Follow the directions they give you. This applies to all students in Varaždin.
Others, if you experience these symptoms - call your doctor or epidemiological service immediately. Describe your symptoms and follow their advice.
Why? National and local authorities will have the most up to date information on the situation in your area. Calling in advance will allow your health care provider to quickly direct you to the right health facility. This will also protect you and help prevent the spread of viruses and other infections.
Here is also poster from Croatian Public Health Institute with more protection measurements: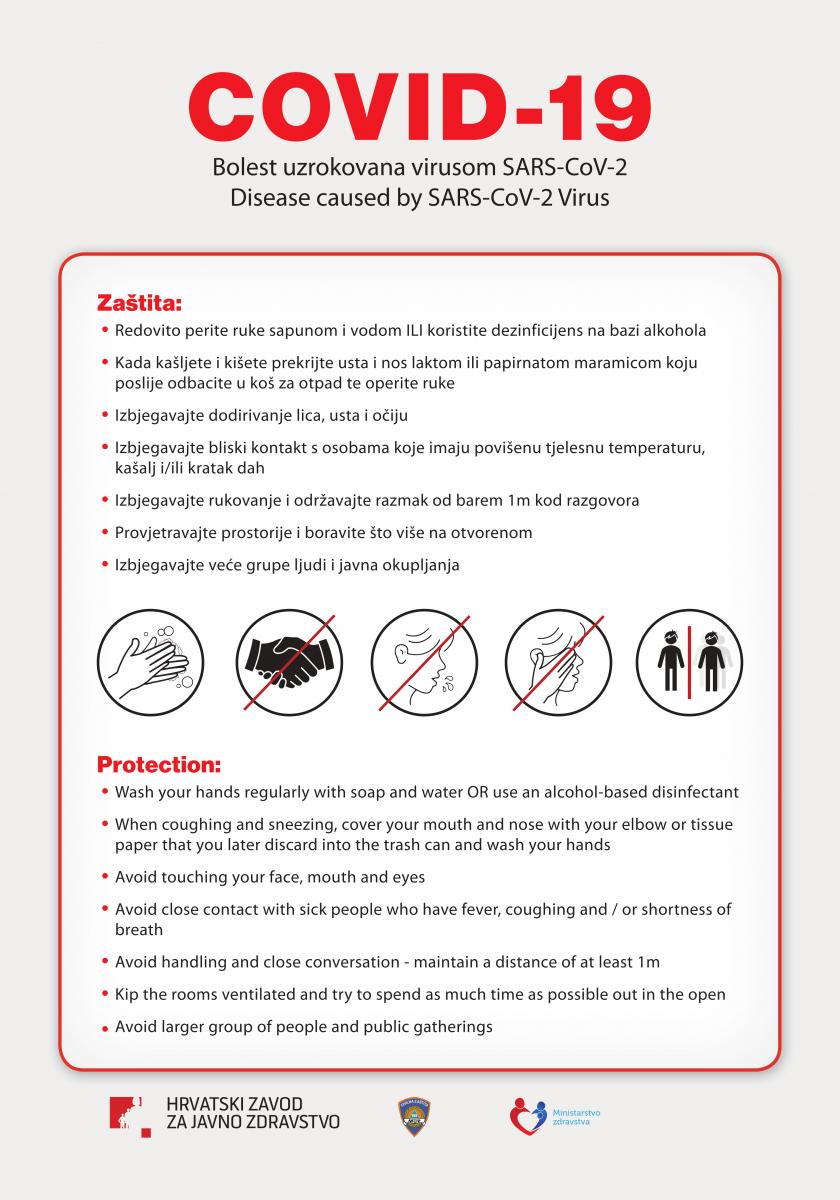 FOI SERVICES WORK
all centers and departments of the Faculty of Organization and Informatics continue to work from FOI, starting June 1, 2020
all employees are required to be available on a daily basis and to carry out their work tasks
all communication with the Faculty services is recomended to establish online (via e-mail)
CONTACT
FOI INTERNATIONAL OFFICE
PSYCHOLOGICAL SUPPORT FOR STUDENTS
Psychologist Violeta Vidacek Hainš
091 3390 839
Skype: violetavh1
113 - CALL CENTER FOR ALL INFORMATION ON CORONAVIRUS
Follow all the information about coronavirus in Croatia at www.koronavirus.hr/en.